Happy August, friends! Corey, me and the pups are getting ready to head out for a little weekend getaway in Northeast Oklahoma to celebrate our 12 year anniversary, which is tomorrow! We rented a cabin near Grand Lake and are planning to do some off-roading and relaxing… and I'm really looking forward to it! Here are a couple wedding day pics, just for fun ♥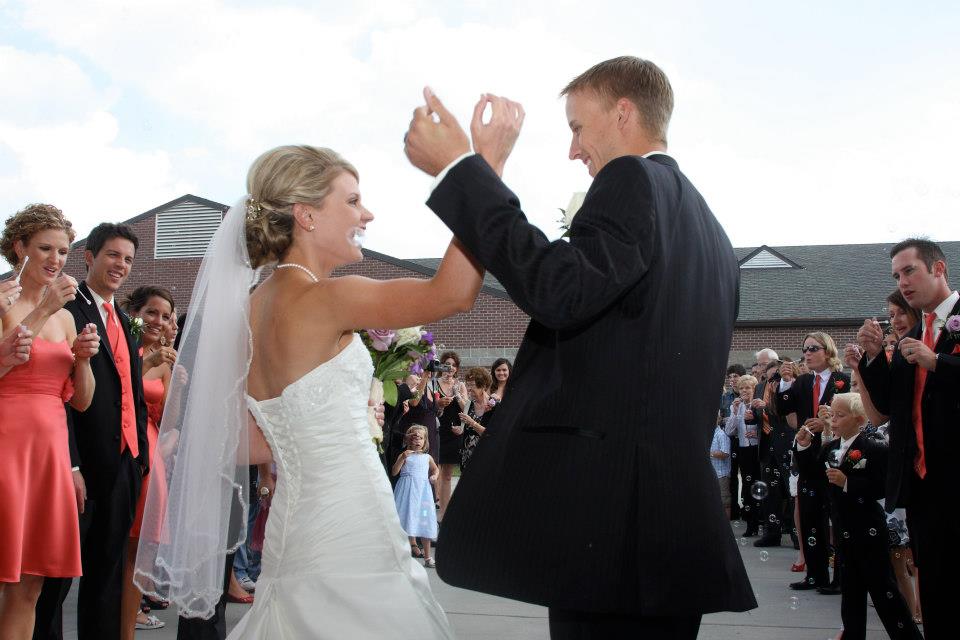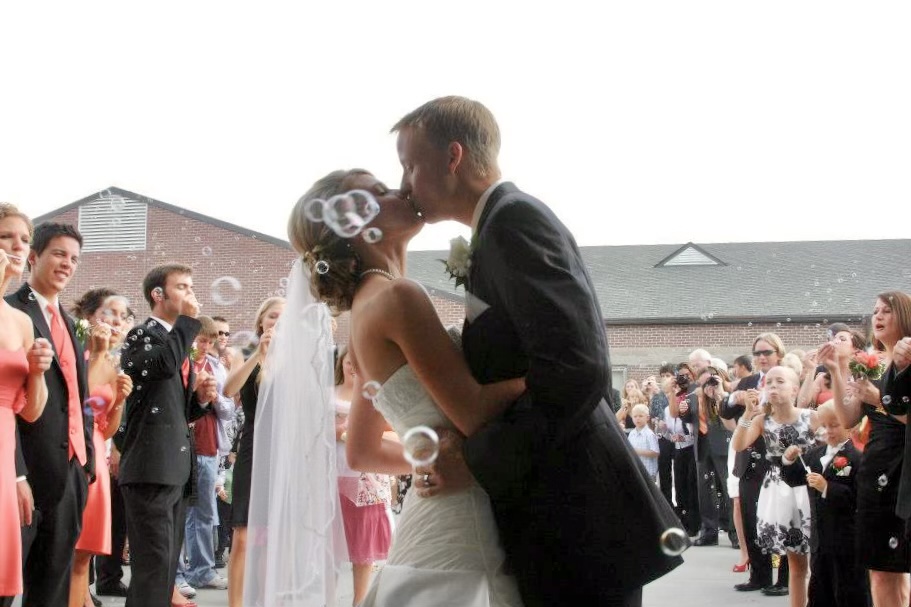 As we prepare for a weekend with lots of sunshine, one thing we are definitely packing is some good quality sunscreen! Corey and I have both gotten so much better about wearing sunscreen regularly the past few years. Having healthy skin is so much more important to me these days than being super tan! We all know that wearing sunscreen can help prevent skin cancer and wrinkles, but unfortunately a lot of sunscreens contain not-so-great ingredients for your overall health. Because what you put on your skin gets absorbed into your body! I've been on a mission to "clean up" all kinds of stuff in my life and this is one area. So I have been buying and trying a lot of different brands. 
So today I thought I would quickly share with you some of my personal favorite healthier sunscreen options. They are all ones I have at home and have used. I have broken them into 3 categories for you: lotions, sprays and face. All of them (except one that isn't rated yet, but from a really clean brand) got a score of 4 or less on the Environmental Working Group website. If you have been around here long, you've heard me mention EWG before! They also have an app that is really helpful. I use it all the time! You check the sunscreens that are currently in your cabinet to see how they rate.
"Our sunscreen ranking system has been informed by our test results. It's designed to provide the best recommendations for efficacy and low ingredient toxicity. Consumers should use our guide to find the products that best balance UVA and UVB protection." More from this article here.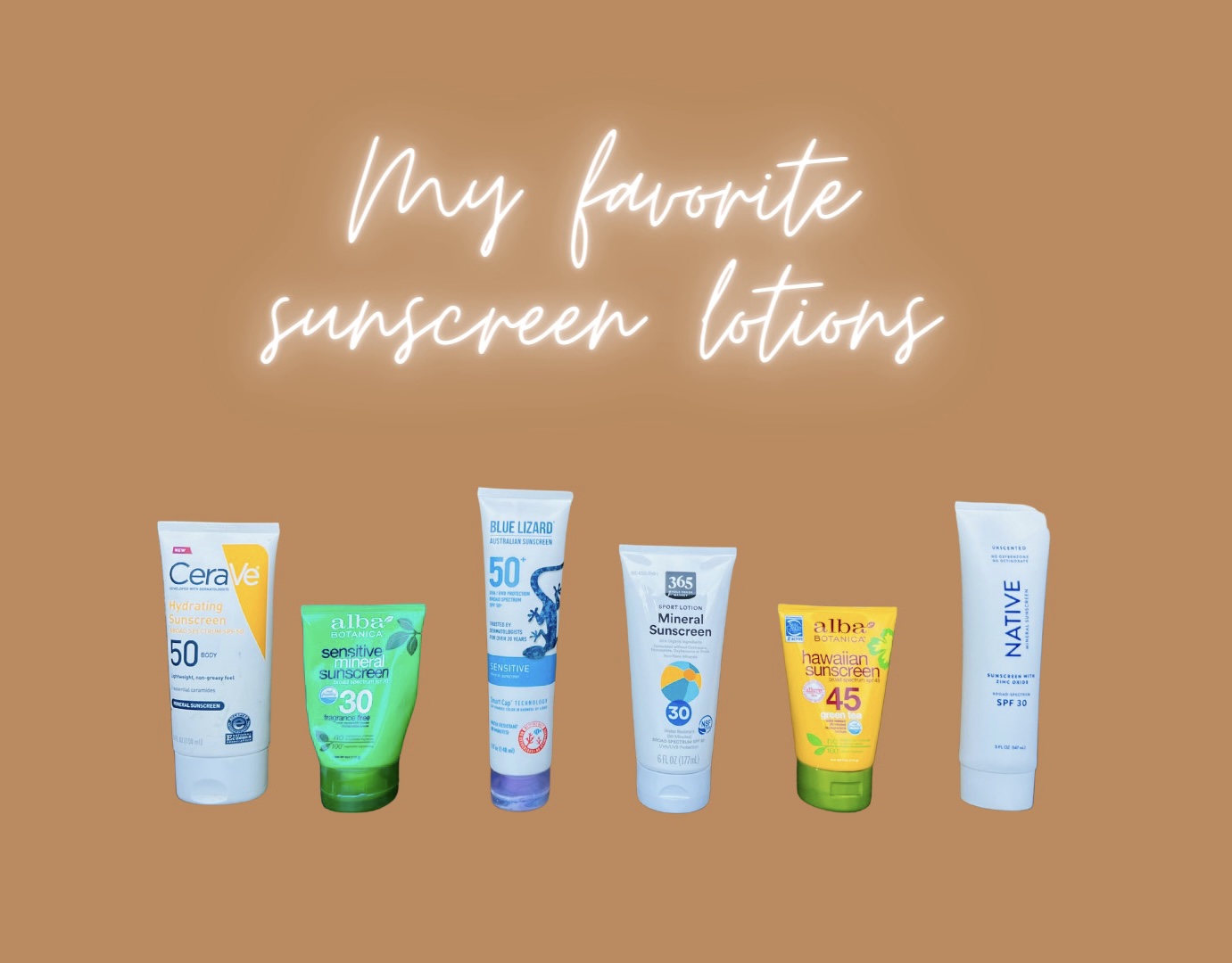 Suncreen lotions tend to have the best reputation for protection. That is because rubbing in a lotion usually covers the skin more effectively. EWG recommends sticking with lotions whenever possible both for that reason and because they tend to have less harmful ingredients. 
EWG ratings from left to right: CeraVe- 3, Alba sensitive mineral- 2, Blue Lizard Mineral- 3, 365 Whole Foods Mineral Sport- 1, Alba Hawaiian- 3, Native Mineral- 2. 
The 3 on the left do leave a white film on your skin, which is common for mineral sunscreens. CeraVe was definitely the worst. My personal favorite is the 365 Mineral Sport Sunscreen. It is has the best ratings, is very affordable and blends in really well, without leaving a white film…regardless of it being a mineral sunscreen. Alba Hawaiian and Native are close runners-up!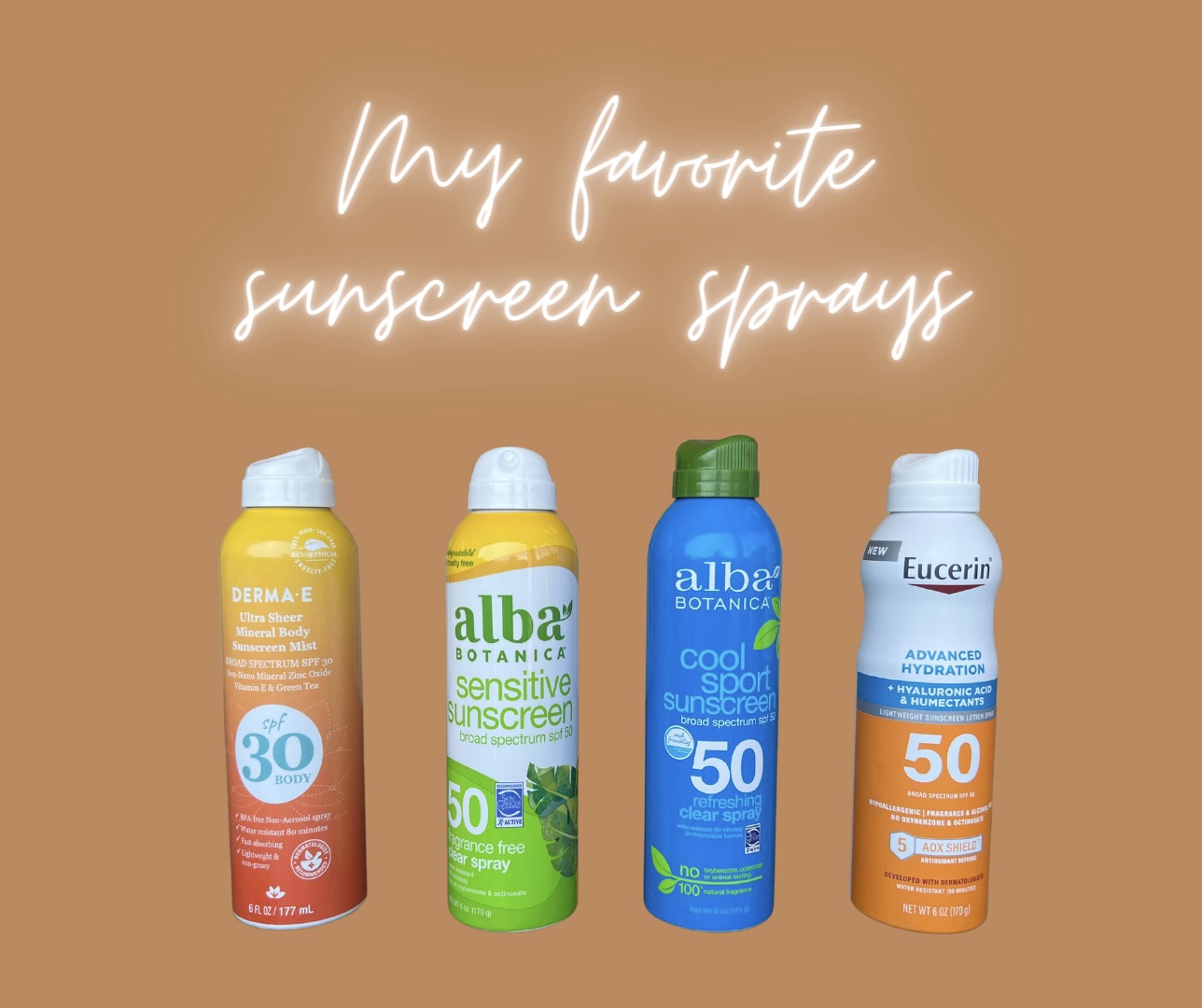 Spray sunscreen is definitely the easiest to apply and there are still some out there that are pretty clean! Corey does not like using lotion, he is team spray all the way! They do tend to be less greasy in my opinion. I recommend still rubbing it in after you spray to help ensure you got good coverage! 
EWG ratings from left to right: Derma-E mineral spray- not rated (but lotion version is 2), Alba sensitive spray- 3, Alba cool sport spray- 4, Eucerin spray- 3. 
None of these leave a white film. The cool spray has a cooling sensation, which I like! But my go-to is Alba sensitive.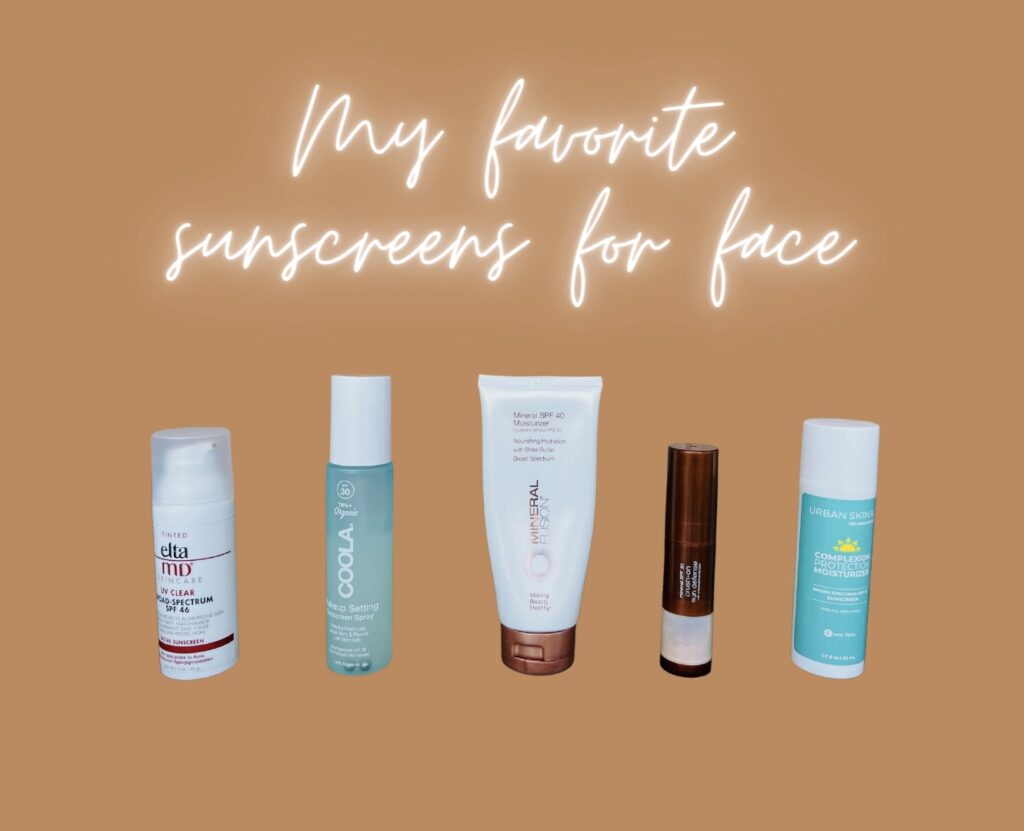 Wearing sunscreen on your face is important if you know you'll be spending extended time in the sun during the hours of 10 a.m. and 4 p.m. I have gotten into the habit of making it a part of my routine in the morning, after I get a good dose of morning light! As with body sunscreens, it is also important to reapply throughout the day if you are spending lots of time in the sun! 
EWG ratings from left to right: Ulta MD tinted- 4, Coola makeup setting spray- 4, Mineral Fusion SPF moisturizer- not rated, Mineral Fusion brush on sun defense powder- 3, Urban Skin rx- 4.
I like all of these for several  reasons! Elta is tinted. Coola is so refreshing on a hot day and can be applied over makeup. Mineral fusion and Urban Skin lotions are moisturizer + sunscreen in one. And the mineral fusion powder can also be applied over makeup and is easy to carry in your purse (where mine is right now).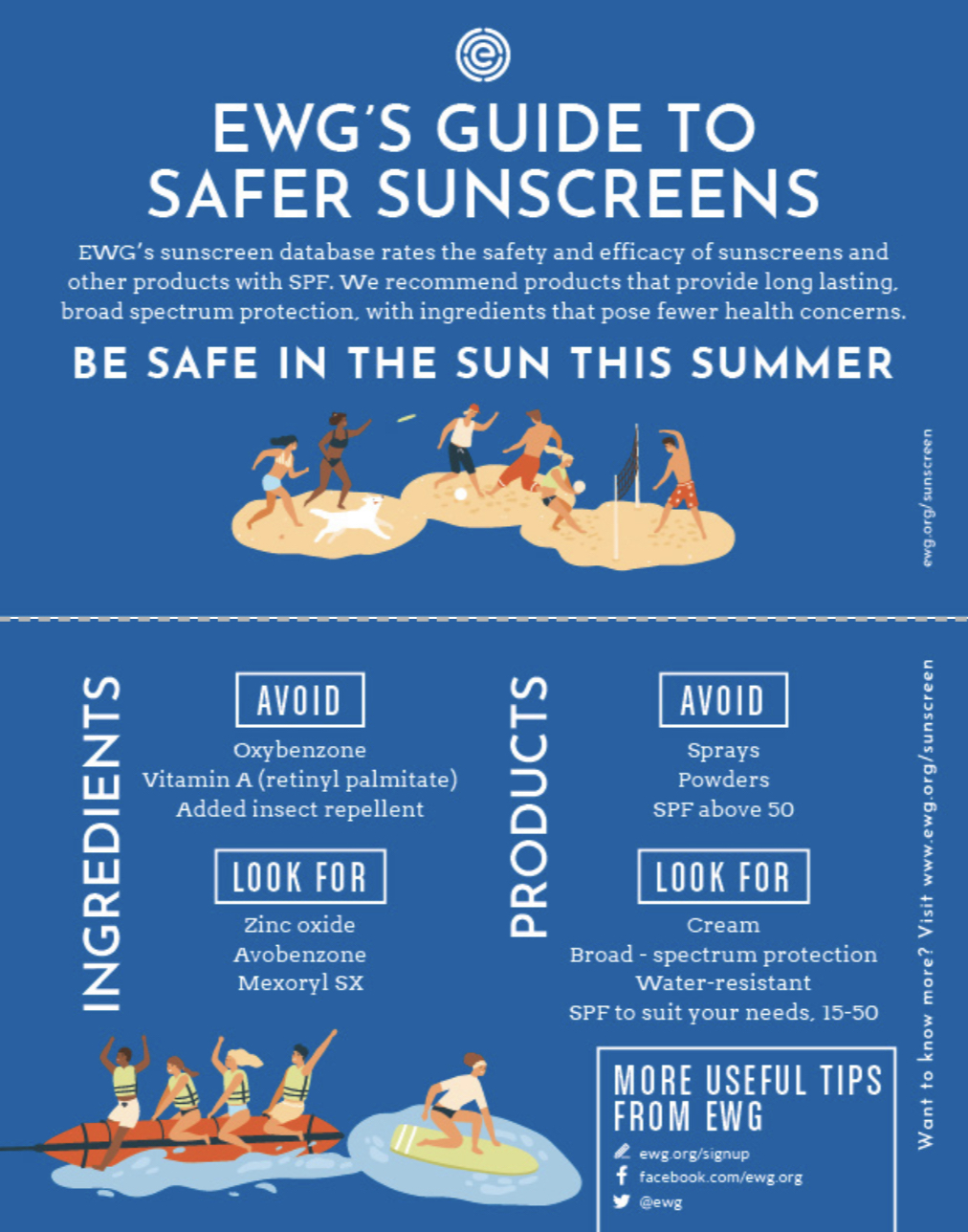 You don't have to rely solely on sunscreen for protection, though! Keep in mind that sun shirts, hats, sunglasses, etc. are also be beneficial. And don't forget about your lips! This is a good option! Also trying to hang out in the shade when possible and avoiding being out between 10 a.m. and 2 p.m., when the UV rays are the strongest can help! 
Whatever you find yourself doing this weekend, I hope it will be sunburn-free! 
Although I am a nurse by trade, I am not a doctor or an expert, and the information I provide on this blog is for educational purposes only. Each person is unique and their needs and circumstances vary, so I always recommend that you consult your medical provider before making any changes.